Everyone loves beautiful covers! Sometimes, you gotta admit, you read or buy a book based on its GLORIOUS cover. If you haven't, well… I don't believe you!
There are lots of beautiful covers out there, but there are few who actually have a good story. #Reality. However, in some cases you actually aren't mad for buying the book because you can take photos of its photogenic nature! Or maybe that's just me. #ConfessionsOfABookstagrammer
Anyways, I'm going to share 5 books I've recently discovered on Goodreads that have beautiful covers! Mind you, I haven't read any of these! Also, don't worry… I also liked them because of the synopsis! *wink*
Let us be wooed by these covers! Let me know which did you find beautiful too, or let me know a book with a beautiful cover that I'm probably unaware of!
P.S. Click the cover to view the book in Goodreads and add it to your "to-read"list! Surely, you'll be able to add one of these! Right? Who cares about TBR piles or "want to read" piles when the book has a beautiful cover right?!
---
With Malice by Eileen Cook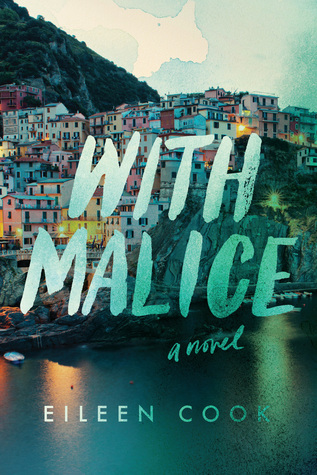 Isn't that a pretty cover?! The city in the background looks nice along with the title's font! For me, the cover screams wanderlust! Sadly, this book isn't about travelling! It's actually a mystery/thriller story! Well, maybe I shouldn't be sad at all now… I love that genre! The synopsis sounds very interesting!
Eighteen-year-old Jill Charron wakes up in a hospital room, leg in a cast, stitches in her face and a big blank canvas where the last six weeks should be. She discovers she was involved in a fatal car accident while on a school trip in Italy. A trip she doesn't even remember taking. She was jetted home by her affluent father in order to receive quality care. Care that includes a lawyer. And a press team. Because maybe the accident…wasn't an accident.

As the accident makes national headlines, Jill finds herself at the center of a murder investigation. It doesn't help that the media is portraying her as a sociopath who killed her bubbly best friend, Simone, in a jealous rage. With the evidence mounting against her, there's only one thing Jill knows for sure: She would never hurt Simone. But what really happened? Questioning who she can trust and what she's capable of, Jill desperately tries to piece together the events of the past six weeks before she loses her thin hold on her once-perfect life.
Everyone We've Been by Sarah Everett
I love the watercolor theme of this cover! Those pretty colors and pastels!! *insert heart emoji* I'm a sucker for watercolor stuff so don't judge me. This book is another mystery story! I actually joined the Goodreads giveaway! Hope I win!
Addison Sullivan has been in an accident. In its aftermath, she has memory lapses and starts talking to a boy that no one else can see. It gets so bad that she's worried she's going crazy.

Addie takes drastic measures to fill in the blanks and visits a shadowy medical facility that promises to "help with your memory." But at the clinic, Addie unwittingly discovers it is not her first visit. And when she presses, she finds out that she had certain memories erased. She had a boy erased.

But why? Who was that boy, and what happened that was too devastating to live with? And even if she gets the answers she's looking for, will she ever be able to feel like a whole person again?
Alex, Approximately by Jenn Bennett
I love how summery this book is! That cover is beautiful! I love fairy lights and pools! Aahh! The title is pretty creative for me too! I feel like this book will be a good summer read! Read the synopsis!
In this delightfully charming teen spin on You've Got Mail, the one guy Bailey Rydell can't stand is actually the boy of her dreams—she just doesn't know it yet.

Classic movie buff Bailey "Mink" Rydell has spent months crushing on a witty film geek she only knows online by "Alex." Two coasts separate the teens until Bailey moves in with her dad, who lives in the same California surfing town as her online crush.

Faced with doubts (what if he's a creep in real life—or worse?), Bailey doesn't tell Alex she's moved to his hometown. Or that she's landed a job at the local tourist-trap museum. Or that she's being heckled daily by the irritatingly hot museum security guard, Porter Roth—a.k.a. her new arch-nemesis. But life is whole lot messier than the movies, especially when Bailey discovers that tricky fine line between hate, love, and whatever-it-is she's starting to feel for Porter.

And as the summer months go by, Bailey must choose whether to cling to a dreamy online fantasy in Alex or take a risk on an imperfect reality with Porter. The choice is both simpler and more complicated than she realizes, because Porter Roth is hiding a secret of his own: Porter is Alex…Approximately.
The Thousandth Floor by Katharine McGee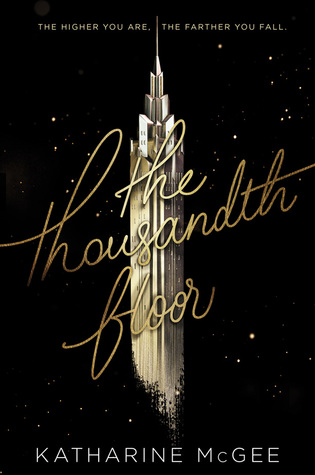 THIS COVER IS SO LUXURIOUS ASDFGHJKL! The skyscraper, gold flecks, and title style *love at first sight*! The concept of this book is VERY unique and creative, I think I'll enjoy this book!
New York City as you've never seen it before. A thousand-story tower stretching into the sky. A glittering vision of the future, where anything is possible—if you want it enough.

Welcome to Manhattan, 2118.

A hundred years in the future, New York is a city of innovation and dreams. But people never change: everyone here wants something…and everyone has something to lose.

Leda Cole's flawless exterior belies a secret addiction—to a drug she never should have tried and a boy she never should have touched.

Eris Dodd-Radson's beautiful, carefree life falls to pieces when a heartbreaking betrayal tears her family apart.

Rylin Myers's job on one of the highest floors sweeps her into a world—and a romance—she never imagined…but will her new life cost Rylin her old one?

Watt Bakradi is a tech genius with a secret: he knows everything about everyone. But when he's hired to spy by an upper-floor girl, he finds himself caught up in a complicated web of lies.

And living above everyone else on the thousandth floor is Avery Fuller, the girl genetically designed to be perfect. The girl who seems to have it all—yet is tormented by the one thing she can never have.

Debut author Katharine McGee has created a breathtakingly original series filled with high-tech luxury and futuristic glamour, where the impossible feels just within reach. But in this world, the higher you go, the farther there is to fall….
Cold Summer by Gwen Cole
AGAIN, WATERCOLOR! I love all the colors in this cover! I love the forest thingy going on in the background! I just LOVE this cover! It's a book about TIME TRAVELLING, of course I immediately added it to my "want to read"list! DUH.
Today, he's a high school dropout with no future.
Tomorrow, he's a soldier in World War II.

Kale Jackson has spent years trying to control his time-traveling ability but hasn't had much luck. One day he lives in 1945, fighting in the war as a sharpshooter and helplessly watching soldiers—friends—die. Then the next day, he's back in the present, where WWII has bled into his modern life in the form of PTSD, straining his relationship with his father and the few friends he has left. Every day it becomes harder to hide his battle wounds, both physical and mental, from the past.

When the ex-girl-next-door, Harper, moves back to town, thoughts of what could be if only he had a normal life begin to haunt him. Harper reminds him of the person he was before the PTSD, which helps anchor him to the present. With practice, maybe Kale could remain in the present permanently and never step foot on a battlefield again. Maybe he can have the normal life he craves.

But then Harper finds Kale's name in a historical article—and he's listed as a casualty of the war. Kale knows now that he must learn to control his time-traveling ability to save himself and his chance at a life with Harper. Otherwise, he'll be killed in a time where he doesn't belong by a bullet that was never meant for him.
---
Yay! That is all! I hope you liked this list! I hope you also loved the covers as much I did or maybe even added one to your "to-read" list! If you want to add me on Goodreads, click here! I'd love to have new friends! and P.S. I don't bite! I just swallow people… *wink*